Most short-term (non-professional) stock market investors underestimate the influence of markets and sectors and place far too little importance on them. They are looking for opportunities that could bring them gains, particularly major gains. They can't see the forest for the trees. There are still people who want to buy securities that have seen sharp declines as they are looking to buy in a period of weakness. I still very often hear people say that they have increased their positions, often more than once, during an ongoing drop in their shares, saying that they want to bring down the average price paid for those positions. This in itself does not solve anything, because if the decline continues for an extended period, the losses become enormous and often too great to be recovered.

The stock market is not a peacefully flowing river; there are good periods and rough periods. Although substantial gains can be generated using inverse ETFs and short selling, most investors primarily purchase securities looking to buy low and sell high. But in terms of technical analysis, it's important to understand that false technical signals are more prevalent during market lulls and down cycles. It gets even worse while in bear markets…
My goal today is not to give you a course on technical analysis, but rather to show that the rate of success is much higher when you know how to wait for the best time to take action. But when is the best time? At the start of up cycles for sector indicators and market indicators. This is when the number of buy signals increases and the success rate is highest.
Finding the most favourable time
In this column, I've decided to demonstrate the most favourable and least favourable periods using rectangles representing the length of downward cycles and neutral cycles. If traders were a lot more selective and more patient during down cycles and lulls, they would make fewer mistakes. However, unfavourable periods must be avoided, but you also need to act at the start of favourable periods, not at the end. Reducing the number of poor trades is just as important as making good ones.
Although traders would like every day to be a good one, this is far from the case. Often, there are long low periods depending on the situation with markets and sectors. For the past few weeks, all sectors have been showing a neutral formation. Markets have all been trending down since the end of January with weaker and weaker rebounds as shown by the peaks at A, B, C and D on the Dow Jones chart below. What's more, this is the fourth time that the index has fallen as far as the support (S) level, which is the reversal point of an upward trend on a long-term basis. The threat of a bear market is very present.
DOWJ-DJI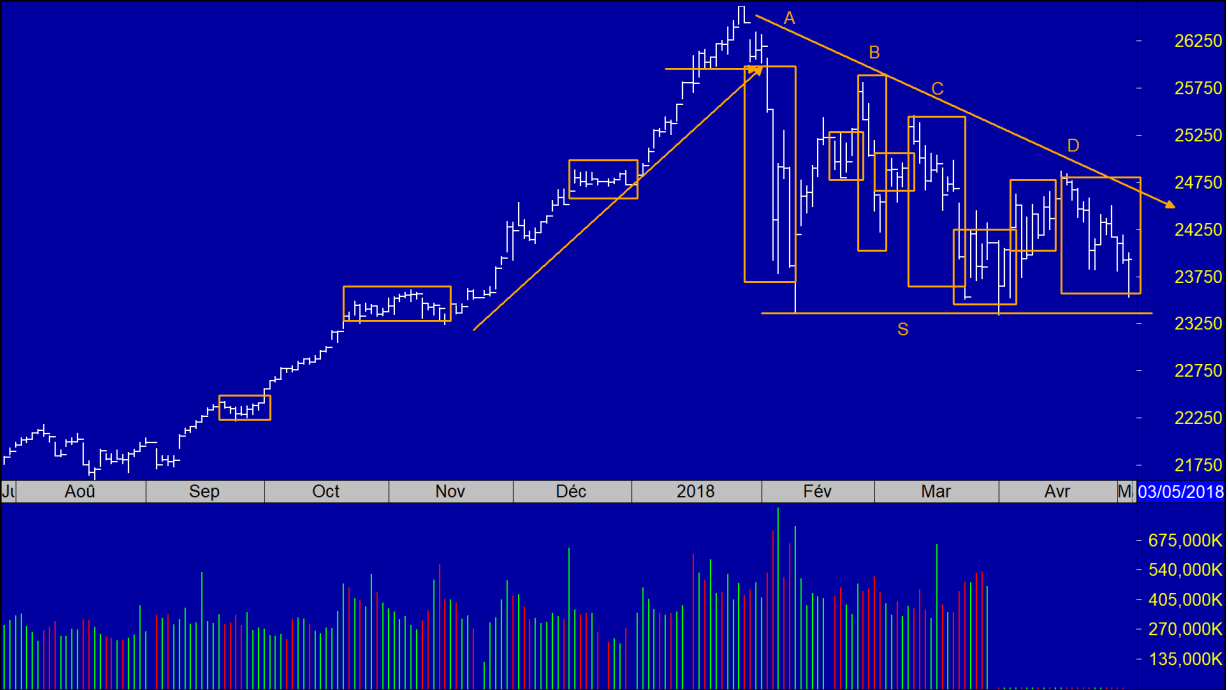 It's all well and good to look for securities to purchase, but what to do with those that you already hold? In some situations like the present one, it is important to establish an exit strategy for each case.
What is the market telling us?
Given that down cycles are completely unfavourable for purchasing stocks and neutral formations are a warning of a change in direction (rectangles shown below), it is better to put off purchases during these periods. By looking at the following charts, you can see that there are still quite a few unfavourable periods (rectangles) and fewer favourable periods than you might think.
For the time being, the market is telling us that:
All indexes are either in a down cycle in a downward trend (Financial Index chart),
Or in a neutral cycle indicating a possible change in direction (Energy Index chart).
It is also telling us that the Dow Jones shows a bear market risk. The only sector that could really be favourable is energy, but only if it were to break through the three resistance levels (1, 2 and 3 below). This threshold will be difficult to cross. If it were to happen, we would see a sharp increase in buy signals. However, if the sector decoupled below the neutral formation (3), the number of sell signals would increase.
In summary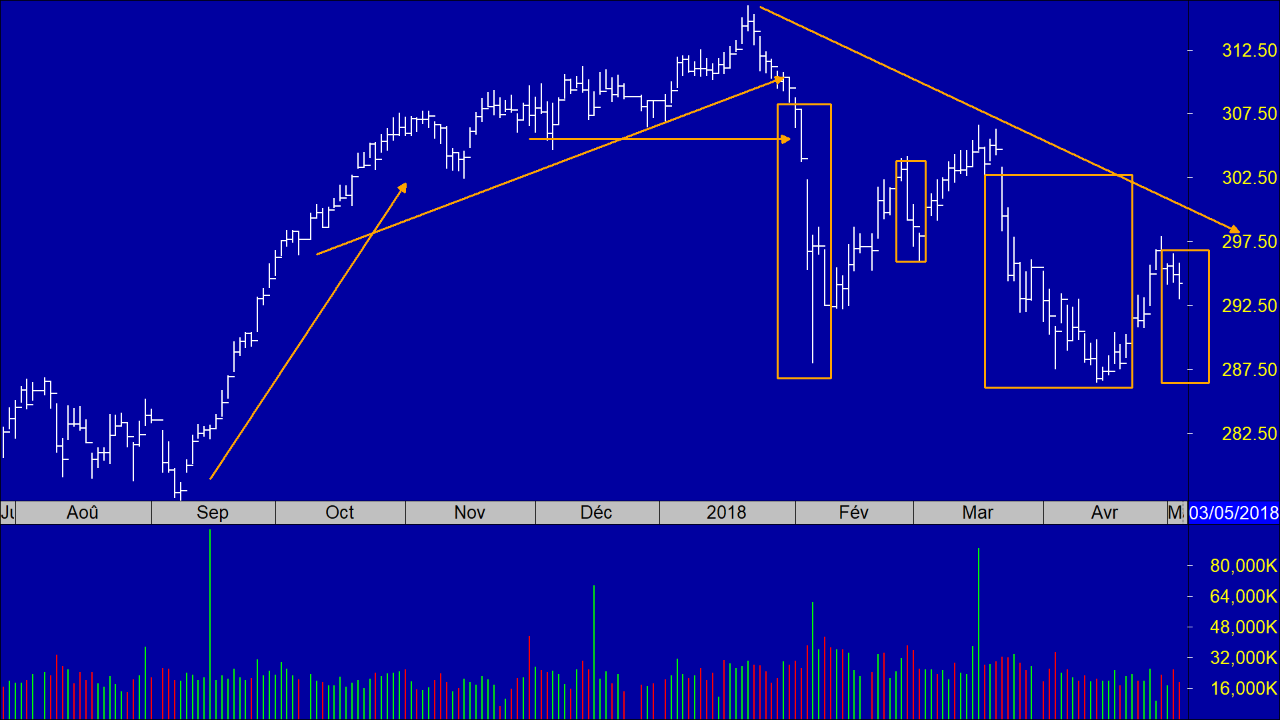 Graphique de l'indice de la finance S&P/TSX (TTFS)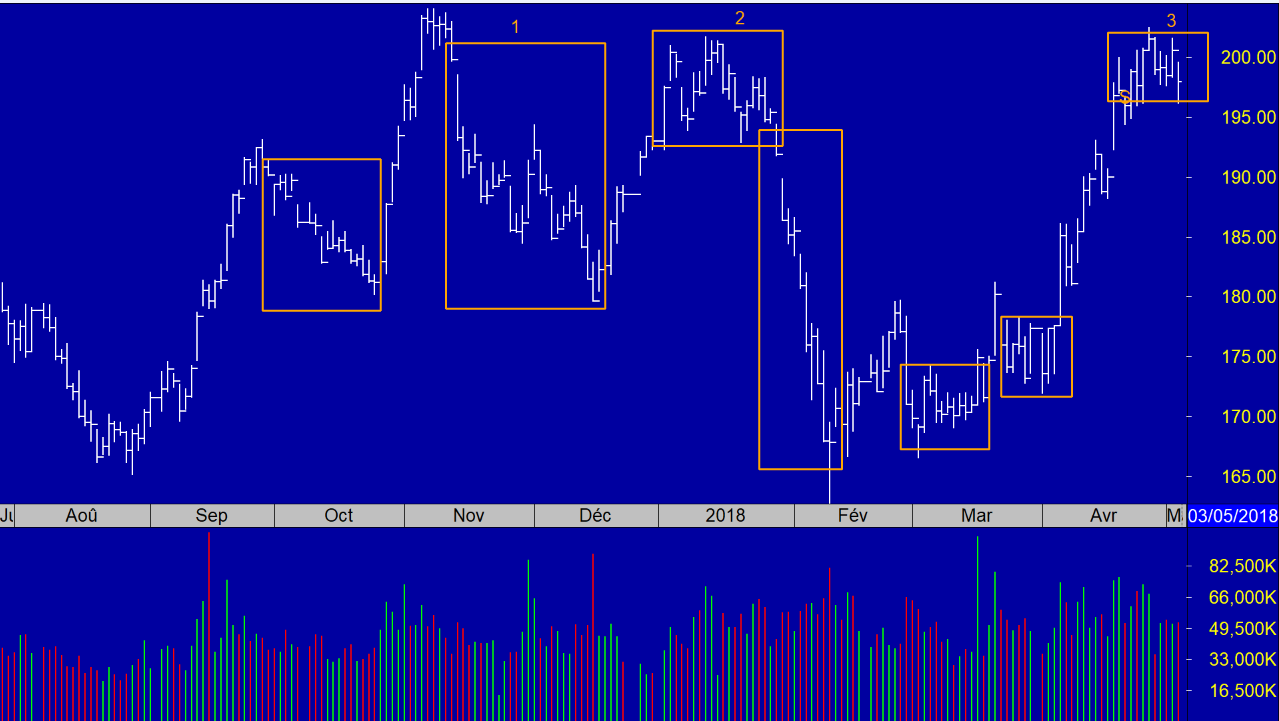 Graphique de l'indice énergie S&P/TSX (TTEN)

The best time to open new positions is when the market starts a new up cycle as well as a new rising trend. This does not happen often, as to achieve these conditions, the market must have first gone through a certain length of time with a bearish trend. Next, the start of each cycle in the new trend is favourable to opening positions. Finally, the performance of stocks within a sector can vary, but the elements that influence the sector typically impact the vast majority of stocks in it. As such, the technical situation of a market and a sector must be taken into account prior to placing a trade.
Benefit from the knowledge and experience of Michel Carignan and his team. Decision-Plus.com produces a free live webcast every Wednesday. Ask questions live, get answers right away and profit from their technical analysis expertise. Learn more about Decision-plus.