First, remember there's no single investment strategy that will ensure success. Your results will depend on your goals, the time you spend investing and the resources you use. Here are examples of investment strategies that can help put you on the right track.
5 things to consider with your investment strategy
1. Diversify your investments
This allows you to reduce risk and get steady returns, particularly when markets are volatile. Invest in a range of markets and avoid putting all your assets in the same sector of activity.
2. Keep your emotions in check
Making major changes to your portfolio in response to market events or when you're in the grip of strong emotions can have a negative impact on the performance of your investments. Learn to take a step back.
3. Invest systematically
Setting up regular, recurring investments can really pay off in the long term. It allows you to mitigate risk and take advantage of bear markets.
4. Choose tax-efficient investing
By understanding tax impacts, you can find solutions to help you defer or reduce taxes and grow your wealth.
5. Invest in currencies
Did you know that fluctuating exchange rates can impact your investments? Learn more so you can use this to your advantage.
Steer clear of stock market synchronization
The important thing isn't when you invest, it's how long you stay invested. Ideally, you should start investing as early as possible so your investment has ample time to grow. If you wait too long as prices rise, you may miss your chance before they start to fall again.
Similarly, you may be tempted to sell when market performance is poor, but you could miss out on great opportunities once prices start to rise. These types of mistakes can be costly!
Here's a graph to illustrate how this works: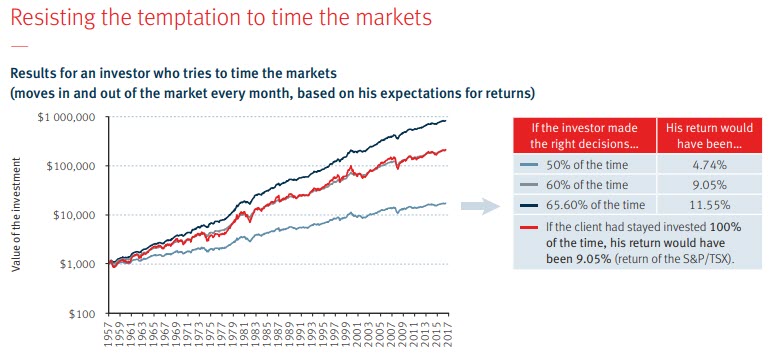 On the stock market, the best days often follow the worst. It's almost impossible to avoid the market downturns if you want to take advantage of upswings. The key is to remain steadfast in your investment strategy and asset allocation so you don't miss out when the great opportunities come along. This is the preferred strategy of the vast majority of pension fund managers and high profile investors like Warren Buffett.
The investor's toolbox
Investors juggle many tasks as they build strategies, assess risk, map out trends and use indicators as guidelines—they are like the artisans of the stock market. And, like any skilled artisan, they need the right tools.
Tools of the trade
Exchange-traded funds (ETFs) and stocks are similar products that are both traded on the market. Since it takes time to place and execute orders, keep in mind that you may not be able to purchase everything you want on the same day or at a specific price. However, National Bank Direct Brokerage (NBDB) has developed tools to help you invest as efficiently as possible as you build your portfolio.
Watchlist: This list allows you to register any securities you want to monitor so you can track their progress. You can create up to 10 watchlists of up to 10 securities each, including stocks, ETFs, options and mutual funds, and monitor their performance.
Alerts: This tool sends you an alert when a security you want to buy hits a specific price. This means you can acquire shares or liquidate a position at the exact moment you want.
Virtual portfolios: If you're not ready to take the plunge just yet, you can simulate a portfolio and test it out. The virtual portfolio tool lets you enter the number of shares you want to buy and the purchase price. You'll get an overview of the portfolio so you can assess whether your choices match your investor profile.
More resources for ETFs
ETF Centre: This user-friendly resource lets you choose EFTs by industry, management style, annual fees, underlying assets and historical performance, so you can find exactly what you're looking for.
Did you know that National Bank Direct Brokerage offers a range of seminars and webinars to help you deepen your knowledge of these tools? Learn more.
It's critical to develop an optimal strategy and use the right tools for a successful online brokerage experience. That's why NBDB has a range of tools available to simplify your investing.
Interested in more in-depth analysis? Everything you need for fundamental and technical analysis is available on our platform. Discover Recognia (free) and Market-Q, two effective programs for tracking market developments, and check out exclusive research and analysis to help inform your strategic decisions.