There are numerous sources of information available on the National Bank Direct Brokerage website that can help you to better manage your portfolio, as well as tools that you can use to save time.
Research & Analysis
National Bank Financial (NBF)
Do you currently hold a stock or have one in mind, but are unsure of what to do and would like a second opinion? An NBF research report can provide you with a summary of the company, a stock rating (Outperform, Sector Perform, or Underperform), a price target with the potential return, and a risk rating of the stock versus the overall market.  NBF will also publish sector reports on a regular basis, updating their view of that sector and the relevant equities.
Published on Saturdays, this is a summary of the previous week's major index, S&P/TSX sectors, commodities and currency returns, as well as the previous and upcoming weekly economic data and news. Discover the previous week's NBF ratings and target price changes in addition to the upcoming week's earnings calendar for Canadian and U.S. stocks. Within the report you can also follow the NBF Strategic List, which presents the best Canadian equity ideas from NBF's research teams. It provides investors with a core group of stocks to build and maintain a diversified Canadian equity portfolio by sector.
Published at the beginning of each month, this report provides economic summaries and information on interest rates and bond markets. Its market & portfolio strategy view will also be updated, and each sector analyst will be consulted for their top picks and commentary on the stocks they follow and their sector.
Presently these reports are accessible through the classic version of our website via Research & Analysis > Stocks > scroll to the bottom of the page.

This research report follows U.S. listed equities and rate equities using a value system where equities have a one- to five-star rating with a fair value estimate. It also indicates if the equity is over, fair or undervalued. Commentary is provided on the equity as well as the industry.
Daily Financial News
Trading Central MORNING BRIEF
A daily pre-market outlook news brief providing you with a U.S. and Canadian snapshot of company-specific news, earnings reports, economic data, technical market analysis, and trading ideas based on technical events – all by email. Once you've logged into your NBDB account, follow this path to subscribe: Markets > Recognia and Morning Brief > Subscribe.
Learning tools
Webinars and seminars
By attending one of our investor education events, many of which are online, you will broaden your understanding of the tools at your disposal to better manage your brokerage account. Click here to view our upcoming events calendar.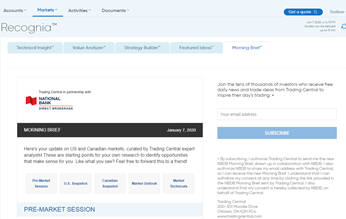 NBDB YouTube channel
Whether you're a new NBDB investor looking to navigate our new trading platform or trying to learn the ABCs of investing, we have quick tutorials to help you. As an active or seasoned investor, we also offer detailed tutorials on our Market-Q trading platform. For those looking to better understand and apply options in managing their portfolio, we have an options trading program created by the TMX.
Follow us on NBDB Youtube channel.
Feel free to browse the website and trading platform where we have numerous other tools for you to discover.