December is tax-loss selling season
Tax-loss selling is a strategy that reduces tax payable. Here are the characteristics of this strategy that helps minimizes capital gains.
Compared to 2018 which was a negative year the S&P\TSX composite index is up almost 20% as of last month, making Canadian Equity one of the best-performing asset classes in 2019. If you've taken profits by selling securities, you may have significant capital gains to declare. 
However, not all 233 stocks that comprise the S&P\TSX composite index are up. In fact, the accompanying chart indicates that 56—or 24% of them—show a negative return spread across 8 sectors.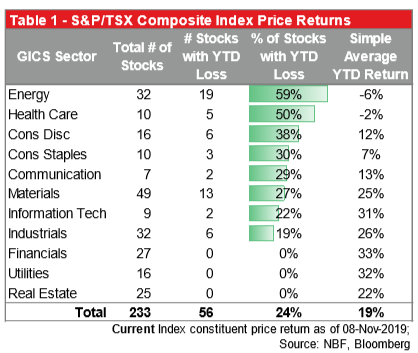 If you happen to hold investments in a non-registered account that, when sold, would create a capital loss, this takes on added importance because of the fiscal impact of such transactions and the possibility of decreasing or even eliminating your capital gains through tax-loss selling.
Tax-loss selling, also known as tax-loss harvesting, is a tax strategy designed to minimize capital gains by selling securities (e.g. stocks, ETFs, mutual funds) that have decreased in value to create a loss, which can then be used to offset capital gains. 
As an example:
You've sold a security in 2019 and realized a capital gain. You also hold another security whose value has dropped, and you do not expect it to recover in the near term. You can sell it to create a capital loss that can offset some or all of the gain. 
If the tax-loss is greater than the capital gains realized during the year, you can carry back any remaining capital losses for up to three years to offset previous gains or carry them forward indefinitely for future use. The goal in applying this strategy is to minimize the amount of tax payable on the 50% of the capital gain that is taxable or, in the case of a retroactive application, to reclaim taxes already paid.
In order for the loss on a security to be available for the 2019 tax year, the transaction needs to settle this year, which means:
The trade date must be no later than December 27, 2019.
The Canada Revenue Agency (CRA) also imposes "superficial loss rules" which investors need to take into consideration. If you have the intention of repurchasing the security, you must wait at least 30 calendar days before doing so or else the loss will be disallowed. This applies to all accounts controlled by you (you can't repurchase the shares in any of your accounts within that period) or affiliated to you (your spouse can't purchase those shares either during that period).
However, if you expect that there will be a rebound in the security during this period, you can still benefit from it by purchasing a similar security or an ETF that tracks the sector.

Lastly, if you intend to use this strategy with US securities, it's important to consider the currency fluctuations as well, because the loss could be lower than expected—or even be nonexistent—if the US currency has appreciated versus the Canadian dollar.
If you have additional questions, you may contact the CRA or your tax professional.